Encouraged by her father, Brazilian Japanese artist Lydia Okumura transformed the interior of Museu de Arte Moderna (MAM) in São Paulo, collaborating with a local metal workshop to create a sequence of 47 wall and floor installations. Okumura had not previously used raw industrial materials, and they now offered new ways to reaffirm and expand the possibilities of space through geometric abstraction. Now, "Volume 84" recreates Lydia Okumura's 1984 exhibition at Galerie Thaddaeus Ropac London, which assembles Cube 1,2,3 and another four sculptures alongside four black and white contextual photographs in a single room.
Stating that "geometry is an intelligent way to express the concept of multi-dimensionality, an aspect of the truth of life," the exhibition, therefore, provides an opportunity to re-evaluate the intricate multi-dimensionality of five key sculptures from the 1984 show, especially the centerpiece of the London show, Cube 1, 2, 3, a stainless steel wire mesh construction suspended from the ceiling. Despite their quality of appearing light and airy, close inspection reveals a complex interplay of overlapping planes. The three perforated cages are "simultaneously open yet impenetrable, melding into their surroundings while preserving their drama."
The other notable sculptures from the seminal 1984 exhibition include: Five Sides – four galvanized zinc mesh pyramids projected out from the wall toward the viewer, Double – two overlapping cubes, and two photographically documented ones, White Volume and Labyrinth. The last two, the fabric and wire White, and the vast painted stainless steel mesh structure coiled at either end Labyrinth fall into a category of Okumura's most exemplary constructions of a mode of working that has sustained her practice.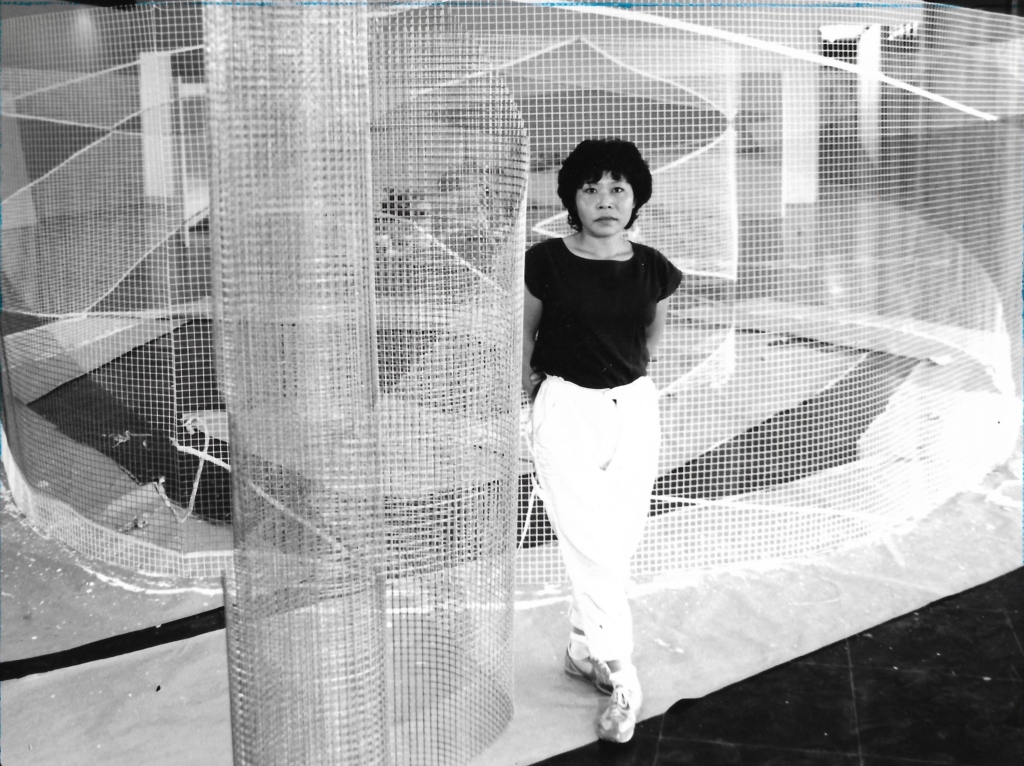 For almost fifty years, Lydia Okumura has transformed space through geometric abstraction, her work blurring the boundaries between illusion and reality and provoking a reassessment of the conventional art-object experience. She was the first Brazilian artist to have their work included in the permanent collection of the Metropolitan Museum of Art, New York in the 1970s.