Constantin Prozorov is a well known Paris-based collage/digital artist usually collaborating with the leading fashion brands such as Louis Vuitton, Gucci and Moncler. He got invited by the MINI design studio to create a fresh presentation of the new MINI model family by reinterpreting digital image worlds in his unique style. For this partnership with MINI, he generated three mesmerising collages that position the brand's future models centre-stage amid fantastical illustration and animations.
"Constantin Prozorov's artistic style offers an inspiring viewpoint on the design of the new MINI family," says Oliver Heilmer, Head of MINI Design. "It is unique, playful and full of positive energy." During more than a year of collaboration between the artist and the MINI design studio, three urban dream worlds have been created in which surreal elements are seamlessly merged into the representation of the new MINI models and the surroundings staged for them. Each of these collages is composed of up to 200 levels and can be viewed both as a static image world and in the form of an animated clip.
All collages are interwoven with unifying stylistic elements that unite them into a triptych: from the colourful towering rooftop which makes a stage for the new all-electric MINI Cooper, to a water-rich landscape with picnic area for the new all-electric MINI Countryman, to a bright and lively urban environment showcasing the future all-electric MINI Aceman. There are also charming details that only reveal themselves to the observer on closer inspection: the Spike digital character rendered as an art toy in the collage for the MINI Cooper; a glistening dolphin crossing the path of the MINI Countryman; or a stylised playing card as a placeholder for the MINI Aceman.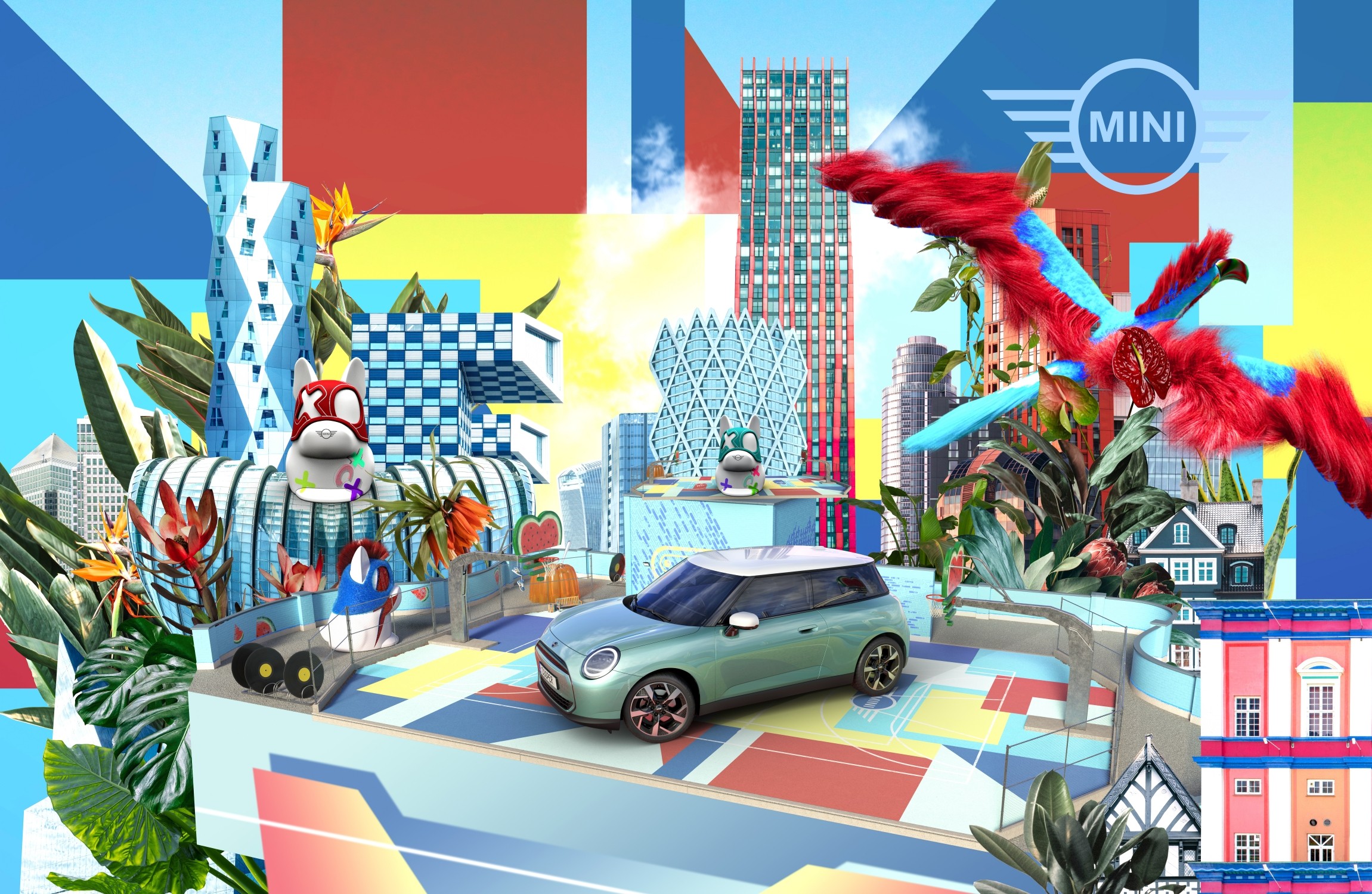 "In my latest series I embark on a journey of discovery through the intriguing world of MINI. I call it "An odyssey through the Miniverse."
​"My collaboration with MINI is centered around a MINIVERSUM: three surreal collage worlds that interact to tell one cohesive visual story. Each of the works reflects the characteristics and spirit of the three vehicles, immersing people in surreal dreamscapes in which nature, urban environments and mythical creatures collide. I categorized the MINIVERSUM into three elemental worlds; air, water and earth. This represents a harmony with nature that is a key theme in my artistic practice. In each of the three collages I have created a mythical creature that takes us on a mesmerizing voyage through its universe of colours, textures and forms, leading us to the reveal of the new MINI models at the end of the journey."
We had the chance to participate in a panel discussion in June this year, featuring Oliver Heilmer, the Head of MINI Design, and the talented artist Constantin Prozorov. During the discussion, they provided in-depth insights into the creative process and the intricacies of the collages.