The artist built an architectural installation based on the repetition of double arches. He created a maze where the visitors are invited to explore. The artwork is also visible form all the levels of the newly renovated store.
The exhibition space is built like an urban patio with circulations on the different sides. It's a bit like a courtyard, on which there are several viewpoints built in different ways: the large windows, the balconies, and of course the escalators that bring a lot of dynamism and a look with very interesting kinetics. The created work plays with its crossed looks at each level by its large size. Its shape comes from classical architecture, arches, which build a volume that distributes solids and voids for optimal exploration and lets light and visual perspectives pass through. It revisits the idea of a giant fountain/waterfall that flows from the ceiling forming arches as it falls. It's a visual stunt. I chose a color that recalls the water but also the vegetation, two central elements of the patios. It is also an immersion in color.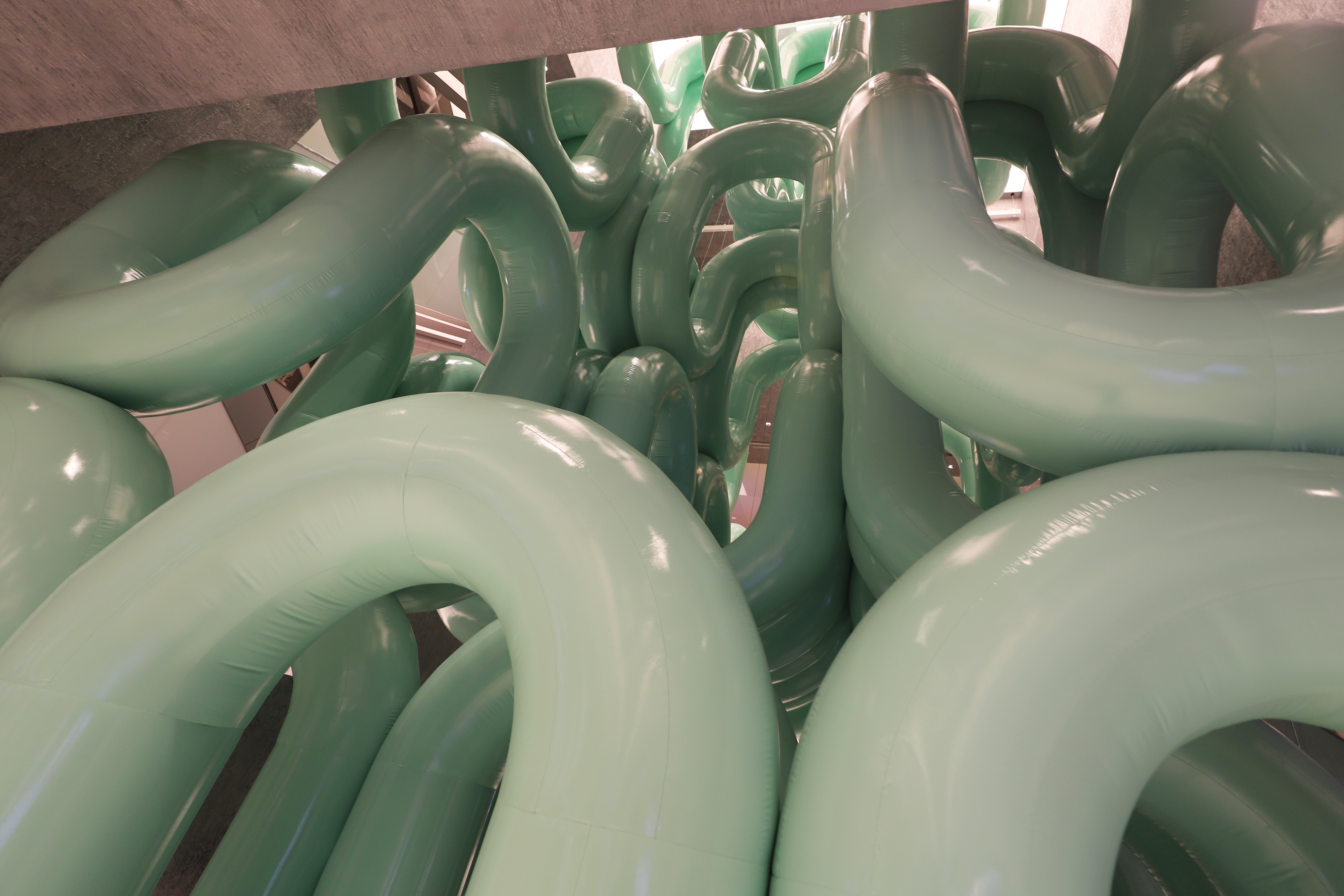 The work exists thanks to the public. The public through its explorations and interactions participate in this sculpture. It's a maze of possibilities. It is an artificial landscape in which visitors will share moments of creativity through their photos or videos or simply their journey. This sharing establishes a visual dialogue and a social bond. In an increasingly individual society, I find it interesting to bring back moments to share and links to create.
Museums have largely developed their sales areas and department stores have developed a museum aesthetic in their architecture but also in the presentation of products. The showcases are often imagined by artists while fashion is increasingly entering the museum through various collaborations, or for the presentation of fashion shows for new collections. In both cases, there is a search for the visitor experience, that's what I'm looking for. The public is part of the artist's work, it interacts with it. This department store is an ideal place for the presentation of Cyril Lancelin's installations, a large audience conducive to discovery, vertiginous spaces and a neat visual atmosphere.
SITE: The Hyundai Daegu, South Korea.
CLIENT: The Hyundai Daegu.
PRODUCER: Public Gallery
ARTIST: Cyril Lancelin