Beate Karlsson is the opposite of a minimalist. The creative director of Avavav and the genius behind the notorious claw shoes is a pioneer of the exaggerated flare in the fashion world. Making seemingly unwearable materials such as silicone, wearable is one of the few ways in which Karlsson has made a statement with her magnified garments. In the past she has repurposed deadstock materials from luxury brands to create her own designs with a message and she more recently worked as a designer for Pyer Moss and contributed to Kerby Jean-Raymonds Fall 2021 couture line. Karlsson is innovative, unconventional, and with every creation hints at the future of fashion and design. 
When did you start your fashion career and what inspires you to stay in the industry?
Since being a kid I've been studying music and art in school but when I was about sixteen I decided to focus on design. I think I've been in a sort of merry go round of trial and error for the past eight, nine years. I've gone into different phases where every segment has given me a clue of what I like and dislike and has led me to discover the likes in the "upcoming" phase. Today I'm at a point where I've doubted the fashion industry many times over and I've ended up in a place where I feel I'm more truthful to the process, where I only explore the things that I'm interested in. My main motivation to stay in the industry is to have creative limitlessness while doing conscious production.
Your fashion is a nod to the exaggerate, from wearable silicone butts to your iconic hands on feet claw sandals you never cease to break the barriers in fashion. How do these ideas come into fruition?
Thanks, that's very kind! I usually get the best ideas before I go to sleep, which is probably why I have such problems falling asleep. The easiest way for me to come up with new ideas for designs is in this state of mind because nothing disturbs the thinking process. However, the most fun way is to sit with someone else and play with ideas together.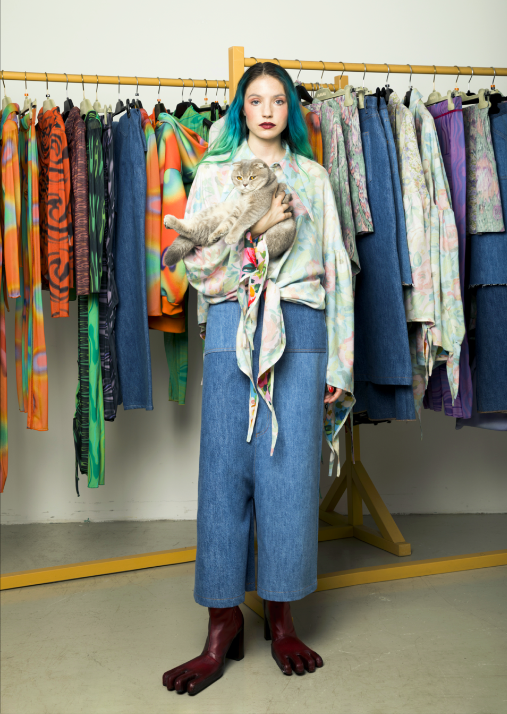 Is there a reason that you have such a flare for magnifying things within your designs? What themes do you see recurring throughout your work?
I think it's because I often play with disproportion – for me it's one of the best tools to reach interesting silhouettes.
Tell me about the materials you use, how do you make materials such as silicone wearable and completely envied in the fashion world through your creations?
Hand-sculpting in clay is the most redeeming way for me to create, mainly because it liberates the process of innovative shapes. So, I use materials like silicone essentially to try to translate the process of hand sculpted clay into wearable products.
You're the creative designer at AVAVAV, some of your most evocative pieces have come to be here. What has been your favorite memory at AVAVAV so far and how has it impacted your fashion career?
I think it's more fun for every month right now to be honest. There's so much change happening so fast and it's all to improve our process to gain more creative freedom and be more considerate of our planet. Right now I'm the most excited about our next collection cause I feel that the designs have matured and grown to be much more interesting than in our earlier collections.
You repurposed deadstock materials from luxury brands such as Burberry, Fendi and Jacquemus to create your own striking design. What is the message a piece like this sends out to others, what fueled this exceptional way of repurposing something that was going to waste?
Since we've been focused on deadstock and we find so much luxury fabric from big recognizable brands it felt inevitable to utilize them into our pieces. Using deadstock from brands like Jacquemus and Burberry felt like an effective way to remind people of how much waste is created by most brands.
More recently you worked as a designer for Pyer Moss and helped bring to life Kerby Jean-Raymonds Fall 2021 couture line that absolutely stunned everyone. What was it like to be a part of building this line and see it come to life?
I loved working on the collection cause it was such a smart concept, but it definitely wasn't easy translating the inventions into runway pieces. Especially because you wanted the designs to come through as the actual invented products but still not be too literal. I think the whole show became so powerful though and I'm honored to have been a part of such an historic event.
When you are designing something what is your process/routine? Cup of tea, walk in the park, or do you tackle it head first?
It changes tons from project to project, but I the general assembly of steps is; I get a vision for a piece that feels worth exploring, I start sketching or creating a clay prototype of it and then I execute. I don't have the best patience and I also feel like you can often loose the magic of an idea if it takes too long to bring it to fruition. So, I try to find the most effective medium to work in to make the process as smooth as possible.
What can we Beate Karlsson fans stay tuned for in the near future in terms of work in the fashion world?
We are changing to factories that are more adapted to designer level production so I've gotten a platform that gives me new levels of creative freedom that I believe is elevating the collections. So, I'm really looking forward to showing my upcoming projects because they will be very extra.
Follow Beate Karlsson on Instagram.
Interview by Eloisa de Farias
Have a look to Avavav new collection below: