Expanding her Clothing Line Animal Series, Russian-born, London-based visual artist Helga Stentzel has created a brilliant new art piece titled Hang On, transforming laundry into a whimsical polar bear illusion that aims to raise awareness on climate change. Additionally, the artist unveiled a tree-planting initiative for every print purchased.
"We were in Russia visiting family in February, and the weather was the coldest since 1971. The temperatures would often drop to -30 during the night, and there was also a huge amount of snow. I thought it would be great to shoot another photo for my Clothing Line Animal Series to document the beauty of the season, and polar bear seemed a great fit. We also watched a few documentaries recently about polar bears and how they are adapting to climate change. It's a fascinating story and if my work encourages others to learn more about this amazing strong-willed mammal, I'd be very happy."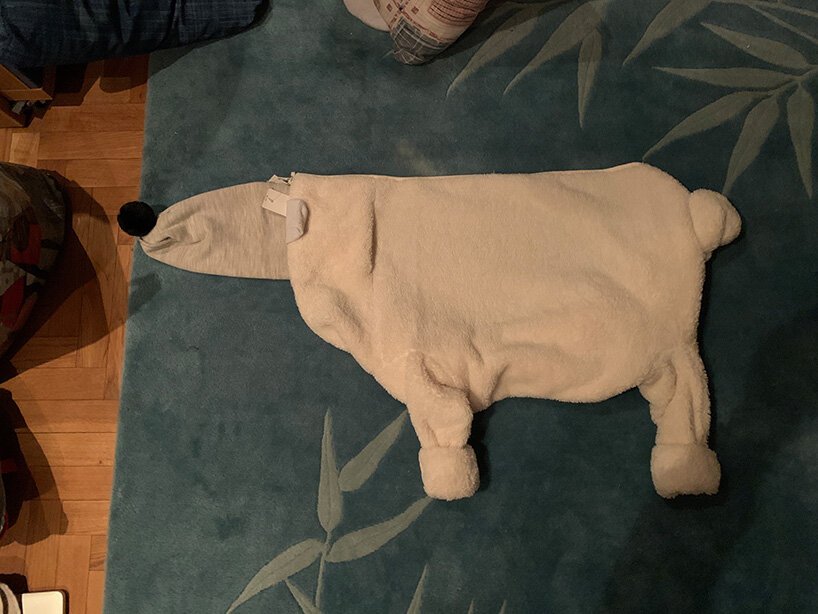 "It took me a while to figure out what to make the bear's head of – I tried shorts with black buttons, t-shirts and even socks, but nothing seemed to work," Stentzel continued. "It's only when I spotted my son's woolen hat drying on the radiator that I realized that its shape was perfect! I then found a gray hat of a similar shape in the shop, decorated it with beads and attached a black pom-pom to it for the bear's nose."
"I stare at things longer than socially acceptable! It can be anything – a chair, a noodle hanging off the fork, a lamp post in the middle of the road… observation is a form of meditation for me. I really enjoy studying colors, shapes and textures – with no expectation, simply admiring their unique beauty. Very often there's nothing more to it, but sometimes – BOOM! – a creativity lightning hits my brain, and it makes a link between sliced bread and wrinkled skin of a French bulldog. It's very unpredictable!"
Helga's main goal with Hang On is to raise awareness on climate change and sustainability, as well as the difficulties polar bears and other Arctic Circle animals face due to global warming.
"Art has always been a very powerful medium, and as long as an artist has something to say, s/he can always do so through their creative work," (entire interview courtesy of Designboom). "The most interesting aspect of art in my opinion is its ability to connect with us on a subconscious level – art speaks to the heart directly, very often bypassing the brain. And in today's world where many of us live in big cities surrounded by glass and metal, where the link between us and nature gets weaker by the day, it is art that has the power to help us to reconnect with our environment. Logic and rational thinking don't seem to help much as us, human beings, can only deeply care about something or someone we feel connected to."